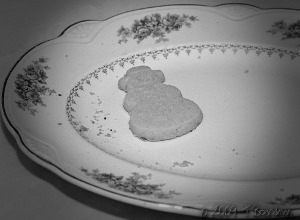 How often have you walked past the tray of cookies at your office and noticed that there is only one cookie left? My guess is a strangely disproportionate number of times. You could substitute "cookie" for any tray of baked goods in general (brownies, muffins, etc) in this observation.
So, what's the deal? Why is there so often precisely one cookie left?
I've asked others. They usually claim an altruistic reason like "not being greedy." I call shenanigans!
So, why then was there only one cookie left with? On some level (conscious or not), the others considered the possibility that there is something wrong with this cookie, given that it is still there after all this time. Let's face it: of all the cookies to have been eaten already, this one was not chosen 20 times. It is also guaranteed to have been sitting there the longest possible time of all the cookies.
One more motivation: nobody wants to clean up the cookie tray. Taking that last cookie leads to some sense of responsibility for cleaning up the mess.
Now you can sleep at night, understanding why it seems there's always one last cookie sitting on a plate at the office.