Update – the fake reviews featured below were removed shortly after this post blew up on Hacker News.
One reason we buy from Amazon: plenty of reviews. But what if many of Amazon's top-reviewed items have fake, paid reviews?
I was looking for a sunrise alarm clock this morning and started searching through the many reviews, filtering by ones that mentioned "minutes," since I wanted to learn about the product's timer feature. This surfaced a bunch of similar-looking reviews: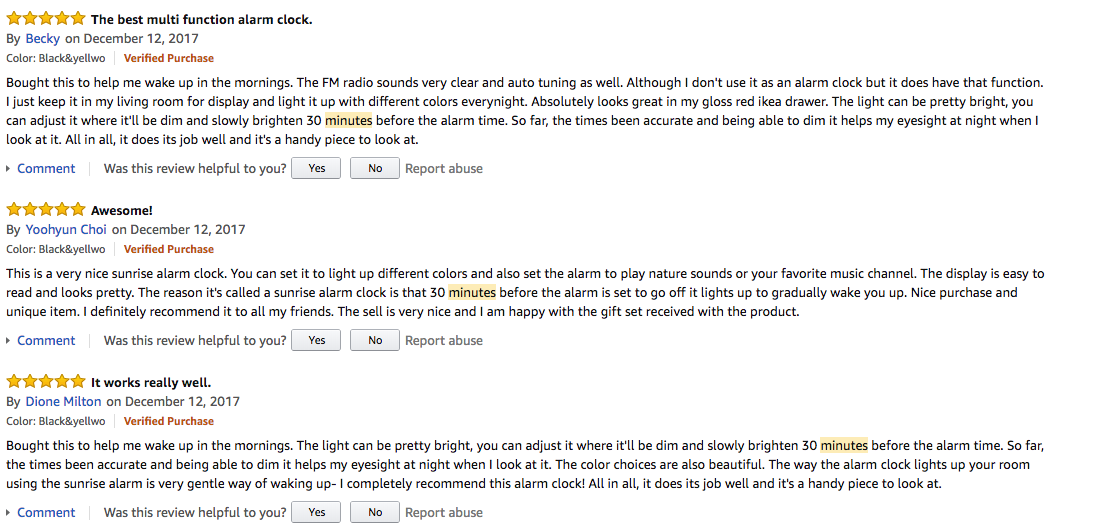 Here, we see both the top and bottom review with the sentence,
The light can be pretty bright, you can adjust it where it'll be dim and slowly brighten 30 minutes before the alarm time.
Did "Becky" and "Dione Milton" really both happen to write a review with the exact same 23-word sentence? Or, is it more likely that they are agents sourcing reviews from a script, and they sloppily pasted their reviews without rewriting them (as they were presumably instructed to do)? Note also the post dates: December 12, 2017. "Becky" and "Dione Milton" both had private profiles, where their 5-6 reviews were hidden – very similar looking.
Amazon – who has some of the world's most advanced ML – really needs to step up its review fraud detection game. Imagine how great the Amazon shopping experience would be if we could trust its reviews.
Third party meta review sites like Fakespot will identify problems for us (in this case, the product got an "F" grade) – so why doesn't Amazon?
Amazon: you can do better.
Update 2020-09-23: you might want to also watch "why Amazon has a fake review problem"